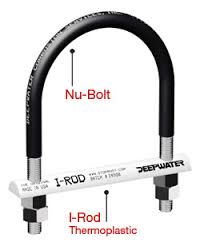 Corrosion at pipe supports is one of the leading causes of process piping failures, which can have potentially catastrophic results.
All styles of pipe supports – including beam supports and pipe saddles – create crevices where water is trapped and held in constant contact with the pipe surface. Once corrosion starts in these pockets, it can quickly undercut the paint film and rapidly cause wall loss as it expands from the crevice. If these conditions are not addressed, entire sections of pipe can fail and require replacement. Deepwater developed the I-Rod pipe-support system specifically to ensure longer, safer lives for pipes by eliminating crevices between pipes and supports.
NU-BOLT ASSEMBLY
The Nu-Bolt assembly consists of a U-bolt with polyshrink, four nuts and a cut-and-drilled piece of half-round I-Rod material. Available in sizes up to 42 inch.
I-ROD MATERIAL
I-Rod thermoplastic material is sold in half-round lengths or cut and drilled to fit standard U-bolts from 2" to 36".
I-ROD CLIP
I-Rod clips conveniently fasten to new or existing cradle-style supports, Grinnell clamps and pipe shoes.

Play Video

Download a datasheet