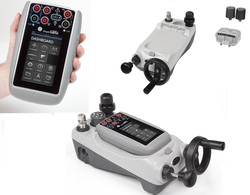 The Druck DPI 620 Genii Series - Advanced Modular Calibrator and HART / Fieldbus Communicator comprises four system components to provide the multi-functionality to perform duties formerly requiring a wide range of different instruments.
Features include
The DPI620 Genii combines an advanced multi-function calibrator and HART /Foundation Fieldbus communicator with world-class pressure measurement and generation.
Smart phone technology touch display and new UI (User Interface) supporting gestures and swipes for a flatter menu structure and greater ease of use.
Completely new digital platform and modems to support HART and Fieldbus applications.
New DASHBOARD to quickly launch applications such as CALIBRATOR, HART and SETUP with new applications, including SCOPE for real time signal diagnostics.
TASK menu allows single touch configuration for common devices such as pressure and temperature transmitters, transducers, switches, and valve positioners. User configured tasks can be added to the library.
All first generation DPI 620 and the new Genii system components are fully interchangeable; e.g. pressure stations, pressure modules and all accessories.

Play Video

Download a datasheet